At Coastal Drains, we know it can be both a worry and a frustration to discover tree roots in your sewer line or drainage system. You'll have to start thinking about and planning for everything, from how much damage it may have caused to your property, to getting pipes unblocked and repaired, to the cost of removing the tree roots from the sewer lines in the first place.
Luckily for you, we have provided this easy guide on what to do if you suddenly find that there are tree roots growing and blocking up a drain or sewer pipe on your property. We can even assist you with prices and lower costs if you call us to clear out your pipes, so you'll never have to worry about what you should expect from the bill.
We'll always be happy to help you unblock and repair pipes that have been damaged or completely clogged by a root mass, so if you've been experiencing a problem with your drains and you suspect that a tree root is causing it, contact our team today. Our dedicated and fully qualified drainage engineers can take a look and find the best solution to get your drains flowing again, without any invasive roots taking up space or cracking the pipes.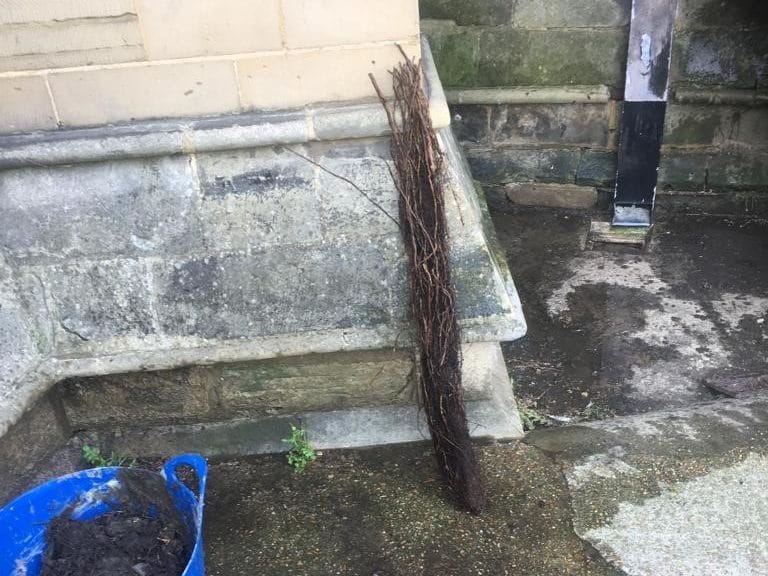 Why do Tree Roots Grow in Drains?
Tree roots grow to search for water and nutrients ‒ two things which happen to be provided by your drainage pipes! When growing close to your sewage system, a small root from a tree or a bush can easily grow through a loose joint or crack in the pipe lining. The more nutrients it receives from the inside of your pipe, the more it will continue to grow, getting bigger and causing more damage as it forces its way through and breaks up the pipe.
How We Can Remove Tree Roots from Your Sewer Lines
The method of removal we use to clear out roots in drains may depend on how deep the roots penetrate. If they are growing in an open drain or gully, there is a chance that we may be able to pull some of them free, as we did when we were called out to take care of a blocked gully for a church in Brighton. The rest of the work can then be taken care of by a high-pressure drain jetting.
This process involves sending a high-pressure water jet through your pipes, which is powerful enough to dismantle any large root systems and will wash away even the smallest, most hair-like roots. This stops the growth in its tracks and ensures the roots don't cause more damage.
Responsibility for Tree Roots
Depending on where the tree is in relation to your property, you may or may not own it. This means that there is a chance you won't be liable for any damage caused to drains by penetrating roots. Legally, your duty of care is to trees that are found on your property. So, if roots from your tree damage pipes that are connected to yours or your neighbour's home, it will be your responsibility to either ensure the problem is removed and the damage taken care of, or to provide compensation (and vice versa).
If you have home insurance this subject may also be covered under your policy, so you may wish to get in touch with your provider to discuss the details.
Preventing Tree Roots from Invading Drains
Short of ensuring you never plant a tree or allow one to grow near your property, there isn't much you can do by yourself to prevent tree roots from growing near or around your drainage system. The most effective thing that you can do to make sure the tree roots stay out and don't break through is to contact a professional drainage firm and have them carry out regular inspections on your pipes.
If you would like to put in trees and shrubs around your property, choosing a slow-growing plant is highly recommended. This will help to keep any root intrusions to a minimum in time for a drainage company to gain access and take them out. In turn, this means you'll likely have less damage in your pipes, and you'll have prevented any blockages from forming in the drain or sewer line.
The Cost of Tree Root Removal
As the drainage problems we are called to take care of can vary greatly, we cannot offer a fully set price on the cost of removing tree roots from sewer lines. This is because we will calculate the price of our work based on an inspection of your infestation and on how long the clearing and unblocking process is going to take. However, you can rest assured that we will do everything we can to offer you the best price, and once we have quoted a figure to you, this is unlikely to change. It should only differ from the estimate given if we find another problem with your drains that we also need to fix.
For Fast and Effective Tree Root Removal
If your drains have become clogged by tree roots and it's causing damage to your pipes, you are going to need an experienced team of drainage engineers to get them cleared out. At Coastal Drains, we can offer you this service at a price that will be good for your budget, so you can simply be relieved that the problem is gone, rather than worrying about the cost of removing tree roots from your sewer lines with anyone else.
We'll quickly carry out an inspection to uncover the location of the affected drain pipe, before starting work on a quick, thorough removal of even the finest tree roots. This may involve carrying out a full drain jet for your pipes that should see them clear and flowing as they should for a long time to come.
Our office lines are open 24 hours a day, 7 days a week, so whenever you discover that you have a problem with tree roots in your property's sewer system, contact us and we'll be there as soon as possible to help you out. The equipment we use can have your drains clean and perfectly clear in no time at all, so your tree root worries will be a thing of the past.