What was seen as an initial inconvenience has stemmed into an unwelcome and disturbing presence. Heavy wind and rain continues to lash across Britain, causing chaos in the form of relentless floods and falling debris.
Despite large parts of Britain avoiding the wrath of Storm Angus, many have been seriously affected by the storm, to the extent where a few have lost their lives.
Body Found Amidst Storm Angus Chaos
Russel Sherwood, 69 had not been seen as of last Sunday morning. Sherwood had been travelling for Ewenny in Vale of Glamorgan as the storm hit.
A body was found during a search for a man who consequently went missing that same Sunday. Registration plates from his car were found on Monday and a vehicle was discovered in the river on Tuesday.
Police have informed Sherwood's family of the discovered body, though, it has yet to be identified.
Devon Hit Hardest
The Met office stated that the wettest place in the UK on Monday was Dunkeswell aerodrome in east Devon. 50mm of rain fell in 24 hours and during the 48 hours up to 3pm on Monday, a total of 96mm fell on Exeter airport.
On average, only 136mm falls on Devon in the whole of a typical November.
Many people have been told to evacuate Devon after a river burst causing extreme flooding and resulting in thousands being left without power. There were also reports of stranded motorists awaiting rescue from Devon. Fire crews in West Yorkshire were called to four incident where people were trapped in cars in flood water.
It looks as if the rain has cleared from the Southern part of England for now, though the storm is expected to pass through the midlands and up through the north.
Property owners and businesses that were affected by flooding were being advised to contact their insures as soon as possible. The AOBI (Association of British Insurers) said firms were "fully geared up" to help customers.
Rain has now cleared the SW but #StormAngus is bringing wet weather elsewhere with winds expected to strengthen in the coming hours pic.twitter.com/ZlzgIYif44

— Met Office (@metoffice) November 20, 2016
A rescue operation took place off the cost of Dover, with 23 crew members having to be evacuated off a 200-metre cargo ship after it suffered engine failure and collided with a barge due to the high winds.
Travellers were also affected, with many trains in southern England cancelled and delayed on Sunday morning so staff could make sure the tracks were and safe and clear of debris.
Channel Islands told to Expect Further Gale Force Winds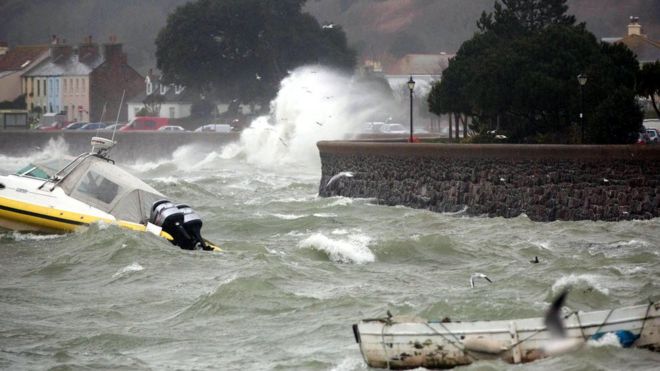 The Met Office has issued an amber weather warning for wind. The Channel Islands are currently facing winds of up to 85mph, so extreme caution is advised.
Forecasters have urged island residents to "be prepared for disruption in the shape of travel services, interruptions to power supplies and damage to buildings."
– JERSEY FIRE & RESCUE
Further Wind and Rain to be Expected in Wales
The Met Office has informed residents that "there will be another band of heavy rain moving into southern coastal countries around 6pm on Sunday and reaching mid to north Wales by rush hour Monday morning."
Heavy rain is also forecasted, after the flash floods in Devon, residents are advised to take necessary precaution when travelling and ensure flood preparations are made if possible.
Other minor incidents included scaffolding crushing a car when it was blown from a home in Brighton, hurricane forces left almost 70,000 homes in western and northwestern France without power on Sunday and the highest rainfall (54mm) was recorded in Exeter.
Fortunately, forecasters predict the storm will move off swiftly into the North Sea towards Europe, with conditions improving at around midday Sunday.
The North Expected to be Hit Again
Moving further north, Durham police tweeted:
Snow & heavy rain are affecting roads in co Durham today, take care A66 trans pennine route open in both directions. Allow extra time today

— Durham Constabulary (@DurhamPolice) November 22, 2016
Temperatures in Aberdeenshire dropped to a startling -8c on Friday evening. Sheltered areas in Scotland are set to plummet as low as -10c over the weekend. Residents are urged to remain in doors and not attempt to go outside in these temperatures, especially late at night.
If anyone is experiencing problems with their power network due to the effects of the storm, they can contact powercut105.com for further information and advice.
Safety Measurements
Before the potential continuation of the storm people are being warned to do the following:
Help vulnerable friends/relatives/neighbours if they require so
Secure doors & windows so they aren't ripped out by the wind
Park cars in safe areas – many walls have already fallen onto neighbouring cars
Boat owners – check your moorings and ensure coverage is well fastened
Construction operators – ensure your equipment is secure and do not leave ladders/tools/unstable structures unattended overnight
Clear out drains from debris (leaves, mud, general waste) to avoid flooding
During the storm, residents are being told to:
Stay indoors
If you must venture outside, watch out for falling debris in the shape of trees, roof tiles and branches.
Avoid driving unless absolutely necessary
Drivers must drive at reduced speeds, also expect to find debris littering the roads
Do not attempt to repair any damage the storm may have caused until the storm has subsided
After the storm
Don't interfere with any lose or fallen cables
Be alert to any weakened trees, branches and/or roof tiles
If you can, help your friends/relatives/neighbours with any repairs