High-Quality Gully Cleaning Services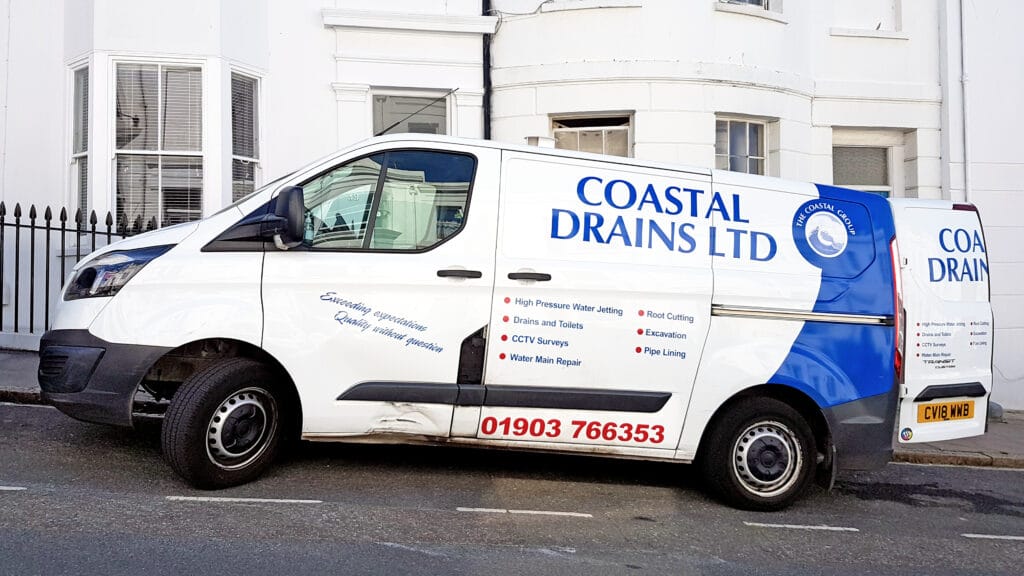 If your road surfacing has been flooding due to heavy rainfall, there are foul odours coming from the blocked drain, or your road gullies are covered in leaves and other block-causing debris, then our experts at Coastal Drains can help.
A blocked gully can pose a serious health and safety risk, so as soon as you notice a blocked road gully; let us know so we can clear it as soon as possible.
Our drainage experts at Coastal Drains know the importance of proper road maintenance, and proper highway gully cleaning and surveying are crucial aspects in preventing the UK's vital road networks from experiencing severe flooding from heavy rain. As the number one drainage company in Sussex, we are able to provide top-quality gully cleaning services throughout the South East.
Booking a gully cleaning service can provide multiple benefits to the area around your home, some of these include:
Long-term reduction of roadside blockages and clogs
You may notice that water drains away quicker
A reduction in bad odours
Provides a safe and clean outdoor environment
Can prevent damage to your home from occurring
Our drainage experts use state-of-the-art drain cleaning tools to provide proper maintenance services for the highways and major roads in the Sussex area. Our experts check inside the gully to clean and free drains, and blocked gullies, in order to eliminate any disruption from worsening.
To find out more information about our wide range of expert drainage services, including our gully cleaning and gully emptying services, throughout Sussex; contact us today.
What is Gully Cleaning?
Drain gullies are a vital part of your drainage system as they receive grey wastewater from your kitchen, bathroom, washing machine, and utility rooms, which then flows into the nearby sewer system. They are often located outside your property, either near the front or back door. When these vital parts of the drainage system become blocked, bad smells, leaks, and debris build-up can occur – causing severe issues if left unchecked. Just like all drains, regular maintenance prevents any unwanted problems or costs from piling up.
Before you book a gully cleaning, we do advise that you remove any visible debris yourself – with appropriate safety equipment including rubber gloves and protective glasses. Certain times of the year, especially autumn, see an increased fall of leaves. Regularly picking these up can prevent the main cause of blockages.
If, after performing your own maintenance, you find that any smells or blockages persist, then it will be time for our drainage experts at Coastal Drains to visit your property. We use effective drain cleaning tools to swiftly clear your drains and gullies with high-pressure water jetting in order to keep them clear and working efficiently.
If you require a gully cleaning for a stubborn blockage, feel free to contact us today.
Why Gully Cleaning and Maintenance is Important
Highway gullies are the roadside drains that are typically covered by a metal gully cover. They are connected to surface water sewers – the purpose of which is to take away excess water from main roads and discharge it into watercourses and sewers. They provide an essential role in increasing the health and safety aspects of the used road, ensuring that these roads are not overwhelmed or flooded by heavy rainfall.
If a large amount of water is allowed to over-encumber main roads, or the gullies found on your property, due to a blocked gully; it can result in multiple problems. Unpleasant odours, ponding, and aquaplaning, can all occur which creates hazardous conditions for drivers and unpleasant conditions for areas around the gully on your property.
For highway gullies, an excess of surface water after heavy rain leads to an increased stopping distance for vehicles. This makes it difficult for pedestrians to cross safely – however, in serious cases of flooding, the road can become completely flooded and impossible to pass through safely.
Regular gully cleaning and maintenance is important. Those who have a responsibility to keep roadside gullies clean in order to ensure the safety of road-users, and those who have gullies on their properties, should undertake regular maintenance before any problems become severe.
Luckily, you don't have to do this maintenance yourself if you do own a gully on your land. Our expert drainage engineers are able to clear gullies throughout Sussex with extreme proficiency. To book your gully cleaning and maintenance, contact us today.  
Contact us Today for Expert Gully Cleaning and Maintenance Services
Coastal Drains are a family run business with experts across Sussex who have been in the drainage industry for over 10 years. We have gained expert knowledge over these years, allowing us to effectively and efficiently deal with all types of drainage issues throughout Sussex. It is no trouble at all for us to complete your drainage jobs, and we have a large range of services on offer that allows us to bring your drains back to their best working condition. 
If you're experiencing any drainage issues, problems, or require maintenance, we can be with you in less than 24 hours throughout Sussex. Contact us today