Blocked Drains Cleaning, Clearance and Repair in Seaford
Coastal Drains are one of the most popular blocked drain services in Seaford and are a favourite among our customers. Don't believe us? Check out our reviews! If you have a problem with your drains, whether they are running slowly, gurgling, emitting foul odours or are completely clogged, Coastal Drains can help! We are pleased to serve our customers throughout Seaford, offering our expertise and resolving any and every drain problem we are faced with.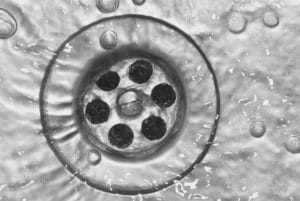 No matter how big or small your plumbing problem is, at home or at work in Seaford, we would love to help! Our team are highly experienced drainage professionals who can efficiently and cost-effectively fix your drainage system, helping you get back to normal life.
Services We Offer in Seaford
Coastal Drains are proud to serve customers throughout Seaford, whether they have a blocked drain that needs fixing, cleaning or repairing; a CCTV survey, cesspit or septic tank emptying or even a water main repair – we are the company for you! We provide numerous drain services throughout Seaford, including:
Drain Unblocking
Drain Repairs
CCTV Surveys
Cesspits and Septic Tanks
Water Main Repairs
Moling
Emergency Call Outs
Insurance Work
Drain Jetting
A Brief History of Seaford
Seaford is a coastal town in East Sussex, tucked away on the south coast of England. One of the main ports serving Southern England during the Middle Ages, Seaford was a prosperous town. However, Seaford's fortunes began to decline rapidly as coastal sediment made the sea difficult to access and the town suffered frequent attacks from French Pirates.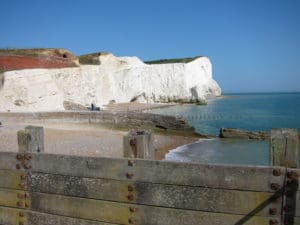 Seaford was repeatedly burnt down by the French and rebuilt in the 14th, 15th, and 16th centuries. The Seaford locals were famous for causing shipwrecks by placing fake harbour lights on the cliffs, causing ships to run aground for looting by the residents.
Seaford's fortunes were revived during the 19th century with the arrival of the railway which connected the town to Lewes and London. Due to available transport, trade was increased and the town attracted visitors – soon becoming known as a small seaside resort town. Today, Seaford is still a small seaside town attracting visitors throughout the year, many of whom enjoy the town, seaside and nearby countryside, notably the Seven Sisters.
Our Moling Services in Seaford
Here at Coastal Drains, we use moling to install drainage systems in Seaford with as little disruption to your garden or commercial landscape as possible. Moling is a technique whereby a pneumatically-driven machine (known as a mole) pulsates through the soil, along a previously mapped path, to lay the path for a pipe. At Coastal Drains, we have been using moling systems in Seaford for many years and our staff are all fully trained to handle any problem they are faced with – even the trickier soil types (such as the white cliffs in Seaford). The benefits of moling are significant:
No disruption to infrastructure, services or the surface.
There is a reduced necessity for road closures and disruption to members of the public.
Moling is much faster than other excavation methods.
Moling is environmentally friendly
Moling requires minimal excavations and causes minimal disruptions.
At Coastal Drains, we offer quality moling services to our customers throughout Seaford. We have a team of highly trained engineers available to carry out your moling requirements and we will undertake any repairs, replacements or first-time installations on your Seaford property.
If you would like to know more about our moling services in Seaford, or if you have questions regarding moling in your property, please do not hesitate to get in touch with our team. We would be more than happy to advise you on the best course of action.
Drain Jetting in Seaford
Drain jetting is a method we use to thoroughly clean out blocked drains in Seaford. It is one of the most effective drain cleaning methods, as water is run through a high-pressure hose with a jetting nozzle for pressurised precision. Drain jetting is able to access your entire drain, bending effortlessly around corners and reaching every crevice. There is nothing more effective than drain jetting for freeing your drain of a blockage – it has even been known to dismantle tree roots!
The benefits of drain jetting in Seaford are numerous:
Thorough drain unblocking
Getting to the source of the problem immediately
Thorough drain cleaning
Increasing the flow efficiency of your drains by up to 95%
Maintaining your drains as a preventative measure against blockages.
If you have a blocked drain in Seaford or you would simply like some drain maintenance carried out, Coastal Drains is the company for you. Our highly trained engineers can provide drain jetting services for all domestic and commercial customers throughout Seaford.
Seaford Water Main Repairs
Coastal Drains specialise in drainage and water main repairs in Seaford. A watermain is the main pipeline used to move water from a treatment plant to the consumer's property. If you live or work in Seaford and require water main repair, we have the solution for you! Our highly trained staff, specialise in watermain installation, maintenance, repair and replacement.
If you have a water main break, there is no need to panic, our experts can fix the problem for you. We use our moling equipment to install a new water main for you in Seaford, allowing you to enjoy a brand new watermain beneath your property. If you are experiencing problems with your water mains and you suspect they may need repairing, look no further than Coastal Drains in Seaford!
Cesspits and Septic Tanks Installation, Maintenance and Replacement
Septic tanks and cesspits are certainly an unpleasant topic, especially if yours needs maintenance or repair. However, there is no need to worry as Coastal Drains are available for all your cesspit and septic tank requirements in Seaford. Whether you require our services at your home or commercial property in Seaford to simply empty the tank, or to clean the pipework, we can fix the problem for you. We also supply new tanks to all our Seaford customers!
Cesspits and septic tanks can suffer from blocked or collapsed pipes that cause numerous problems – namely, overflowing sewage. This is a sure sign that your cesspit requires replacing as it will be posing a significant health risk to your family and others around you. Thankfully, when your cesspit has reached the end of its life, we can replace your cesspit with a newer, more efficient system.
CCTV Drain Surveys in Seaford
CCTV drain surveying is becoming increasingly popular in Seaford as a specially designed inspection system for use in pipes. At Coastal Drains, we use unrivalled CCTV surveying technology that is suitable for drains, sewers and other locations in Seaford where access is restricted due to a confined location or an unsafe structure. Our surveying CCTV technology allows us to offer significantly efficient customer services to our customers throughout Seaford.
Our CCTV surveys can analyse small to large pipework, using colour TV Inspection systems. These inspection systems analyse pipe diameters in Seaford from 50mm through to 225mm. The helpful features of our CCTV surveying technology include on screen text and auto onscreen meterage readout.
For larger pipe diameters, 150mm through to 1 metre, we can analyse the condition of drains using our main line CCTV equipment. We also have a portable main line equipment, ideal for situations where vehicle access in Seaford is restricted. In such situations, lines of up to 350 metres in length can be surveyed using this equipment and WRC validated reports are provided.
If you require our CCTV drain surveys in Seaford, call us today. All our operators in Seaford are trained in sewer defect classification, new roads, street works and confined space entry so that you know you're getting the best drainage service in Seaford.
Drain Repairs in Seaford
If you require drain repair services in Seaford, Coastal Drains are the company for you. We provide repair services to our customers throughout Seaford, repairing your broken, damaged or blocked drains with minimal disruption.
You could require drain repair for your property in Seaford for any of the following reasons:
Damaged, broken or cracked pipes
Foul odours coming from your drains
Blockages causing internal damage to the drain system
Slow running water or gurgling sounds
Poor drainage
Structural Damage
Pipe corrosion
Root ingress
We will send out our professionals to your Seaford property to analyse your drains and discern whether or not there are any defects, breakages or poor installation problems that need fixing. Our qualified team will use our CCTV surveying technology to discover whether the problem is deeper within the drainage system. If there is a problem and repair is required, our team of drainage experts in Seaford will repair your drain as efficiently, cost-effectively and thoroughly as possible.
Drain Unblocking Services in Seaford with Coastal Drains
Are you suffering with blocked drains, sinks or toilets in Seaford? Then call Coastal Drains today! We can pay a visit to your Seaford property and unblock your drainage system, clearing up those drain blockages for good and getting your drain pipes in Seaford running properly again. Our team provide speedy and efficient drain unblocking services to customers throughout Seaford, including drain jetting, CCTV surveys and blockage clearing.
Blocked drains in Seaford are not uncommon. In fact, the majority of our call outs come from customers based in Seaford requiring our services to unblock their drains. So, if you have a blocked drain, don't worry, our team at Coastal Drains can fix it for you. It doesn't matter how big or small the problem is, whether it's a blocked sink, toilet or drain in Seaford, we can fix it for you.
Blocked Toilets
If you live or work in Seaford and you are suffering from the unpleasant blocked toilet, do not worry – our team at Coastal Drains are experienced professionals and can unblock your toilet in no time. Often, blocked toilets in Seaford are caused by stormy weather, blockages in the pipe system or flushing items down the toilet that have restricted the water flow, blocking the toilet.
If you have a blocked toilet and you need it fixed, Coastal Drains are the company for you. It doesn't matter how unpleasant the job is – and a blocked toilet is certainly unpleasant! – we can have the problem fixed in no time.
Blocked Sinks
Blocked sinks can be a problem. Have you ever been washing the dishes and suddenly you look down and, rather than draining, your sink is blocked and filling up with water? There's no need to panic, Coastal Drains can help! Turn off your tap immediately and give us a call. Blocked sinks are a common problem in Seaford and our team are especially experienced at fixing problems with blocked sinks.
So, if you have a blocked sink that you can't fix yourself, call our professionals today and we will come to your property in Seaford and fix the problem for you!
Drain Cleaning
Coastal Drains offer unrivalled drain cleaning services throughout Seaford. Drain cleaning is an efficient and cost-effective management strategy that helps ensure your drains stay in prime condition – preventing future blockages or problems. Our drain cleaning services in Seaford are extremely popular. We offer drain jetting to offer the highest quality of drain cleaning possible. Our drain cleaning services are unrivalled throughout Seaford and will have your drains looking brand new and running smoothly.
Drain Clearance
Drain clearance is often required on the coast of England due to the debris that gets blown on-shore by the sea and carried around during storms. Drains often end up with lose debris, fallen trees and tree roots stuck inside of them, causing damage to the pipes. In such cases, drain clearance must be carried out by professionals to clear the drain of all obstructions.
If you require drain clearance, call us today! We offer excellent drain clearance to all our customers and will help clear your drains completely of any debris, tree roots or other blockages that may be inhibiting the normal functioning of your drain.
Emergency Drain Callouts in Seaford
Unfortunately, living on the beautiful Seaford coast means your property is more prone to stormy weather, resulting drain flooding or drain blockages. However, if you live in Seaford, there is no need to worry! Our team at Coastal Drains are proficient at helping customers throughout Seaford fix their broken or blocked drains as quickly and efficiently as possible.
So, if you live in Seaford and your property has suffered damage from a storm, it is likely your drains require unblocking, repair or complete replacement. If you have experienced this and you have a blocked sink, toilet or drain – report your drain emergency to Coastal Drains today. No matter how big or small the problem is, damage to your drainage system in Seaford is an issue and must be dealt with as quickly as possible. That's why, at Coastal Drains, we offer emergency call outs to all our customers in Seaford for those drain problems that simply can't wait.
Call Coastal Drains in Seaford Today!
If you live or work in Seaford and your drains are causing you problems, call Coastal Drains today! We can fix your drain issue, offer you preventative advice and come back regularly to keep your drains well-maintained. It doesn't matter what drainage problem you have in Seaford, how big or small, there is no drain issue our experts have not seen or dealt with! No matter if you have a blocked drain, require and emergency callout, have a broken drain pipe, blocked cesspit, septic tank that needs emptying, CCTV survey requirement or simply drain cleaning maintenance, Coastal Drains offer it all. Call us today!