Sewage Treatment Plant Installation and Maintenance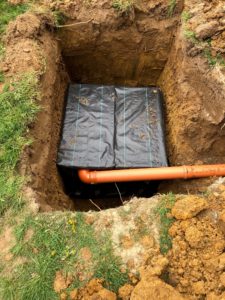 At Coastal Drains, we know that many of our customers will have alternative drainage systems to main sewer connections. As such, we do everything we can to offer the widest range of drain services across our catchment area. This includes carrying out inspections, repair work, installations and septic tank emptying in Sussex.
No matter if you live in East Sussex or West Sussex, we can be there as soon as you need us to take care of your septic tank. Contact us via phone or email today and our dedicated team can soon arrive to find out what the problem is and get it fixed, all at a price which suits your budget.
Our Services for Septic Tanks in Sussex
We can offer you a wide range of services for your septic tank, whether you live in East Sussex or West Sussex. Below, we've provided a short list so that you can see what we'll be happy to carry out for you when we arrive on your property:
Septic tank cleaning and emptying
Septic tank installations
Septic tank surveys and inspections
Septic tank unblocking
Septic tank repair and maintenance
Septic tank replacement
If your septic tank has a problem but you're not sure what's causing it, we may begin our work by carrying out one of our specialist CCTV drain surveys. To do this, we'll fit a long, flexible camera down your drains to take the clearest, most accurate footage possible. The images that we'll receive in return should help us to pinpoint the problem in no time at all, whether you have a blocked drain or a crack that's causing a leak in your system.
Cleaning Private Systems and Septic Tank Emptying in Sussex
If you wish to keep your septic tank system in good working order, it's vital that it's kept on a regular cleaning schedule. If this doesn't happen, the buildup of solid matter will eventually clog up the system and overload the tank. This prevents waste from travelling through the system and eventually causes it to break down, leaving your property without drainage until the issue is resolved.
Fortunately, we can set you up with a regular cleaning schedule that will see your tank cleaned and completely cleared out as often as it needs. This will be done by our team of engineers, who will use one of our heavy-duty tankers to pump out the liquid waste, before de-sludging the walls of your tank's chambers to help keep it from becoming blocked up.
Septic Tank Installations in Sussex
It's only understandable to worry that your property may not be big enough, or suitable for the septic tank system you need. That's why our installation work will always begin with a series of tests, checking that your ground is porous enough for a drainage field and large enough to fit the entire system once the work is complete.
We'll move forward with the installation once all the tests have been performed and we've confirmed that a septic tank is still the best type of system for your property. If you'd like to learn more about the process we'll carry out with every professional installation, give us a call and we'll be able to answer any of your questions.
Septic Tank Maintenance and Repair in Sussex
We'll also use the time taken to clean your tank to check for any signs of wear and tear or other forms of damage. This includes looking for cracks in the walls of the tank and broken dip pipes. If our team finds anything which might cause problems for your system, they'll work quickly to come up with the best solution to get it repaired.
Occasionally, our team may come across a system which is too old or damaged for any repairs or maintenance work to be completely effective. If this should happen for your system, we'll be more than happy to help you select a replacement. This may involve upgrading your tank to a sewage treatment plant, or even connecting your property to a mains sewer line, if a viable connection can be made.
If you're interested in exploring these options, call us today and one of our experts will be glad to discuss it with you further.
Call Us for Expert Installations and Septic Tank Emptying Services
If your East or West Sussex property uses a septic tank, or if you know you're going to need one for a remote home or business soon, contact our team at Coastal Drains today. We are committed to providing exceptional services for our customers and we'll do everything we can to ensure that your private system is installed or maintained exactly as you need it.
Our fully trained and qualified drainage engineers can arrive at your location on a schedule which suits you, so all you will need to do is book an appointment to have your tank inspected. We'll handle the rest, arriving in a short amount of time to carry out work which causes only minimal disruption and can be completed at a price which will remain friendly to your budget.
FAQs
How Often Should Septic Tanks be Emptied?
Ideally, you should only need to empty your septic tank every three to five years. However, how much you will actually need to empty it depends on a number of different factors, including how much the system is used and how many people are inhabiting your property. As such, we would always suggest having it more regularly checked. This should be done every 6 to 12 months, if you wish to ensure that your system is kept in its best possible condition.
What's the Difference Between a Cesspit and a Septic Tank?
Although both cesspits and septic tanks collect wastewater from properties, you can easily tell the difference between the two. This is because cesspits simply collect the waste, while septic tanks use a simple treatment method which separates the solid matter from the water before allowing the liquid to drain away. Because of this, a cesspit will have to be emptied more frequently than a septic tank.
Cesspits are the least recommended form of drainage system for this reason, as well as the fact that they are considered far less hygienic and easy to care for. They are also easily capable of illegally polluting if they overflow or leak. If you have this type of system, we would strongly recommend having it upgraded to a septic tank or sewage treatment plant as soon as possible.