Swift and Effective Water Leak Repair Services
At Coastal Drains, we have had years of experience in handling leaks from burst and damaged pipes in and around a range of property types. Whether you know you have a burst pipe in the basement of your home and need fast water leak repair, or think that leak detection could uncover the reason behind those mystery puddles around the grounds of your business, we know that we can help.
Call or email our team today and we'll soon send our engineers to your site to get the job done. With our expert help, your drains can soon be up and running just as your property needs.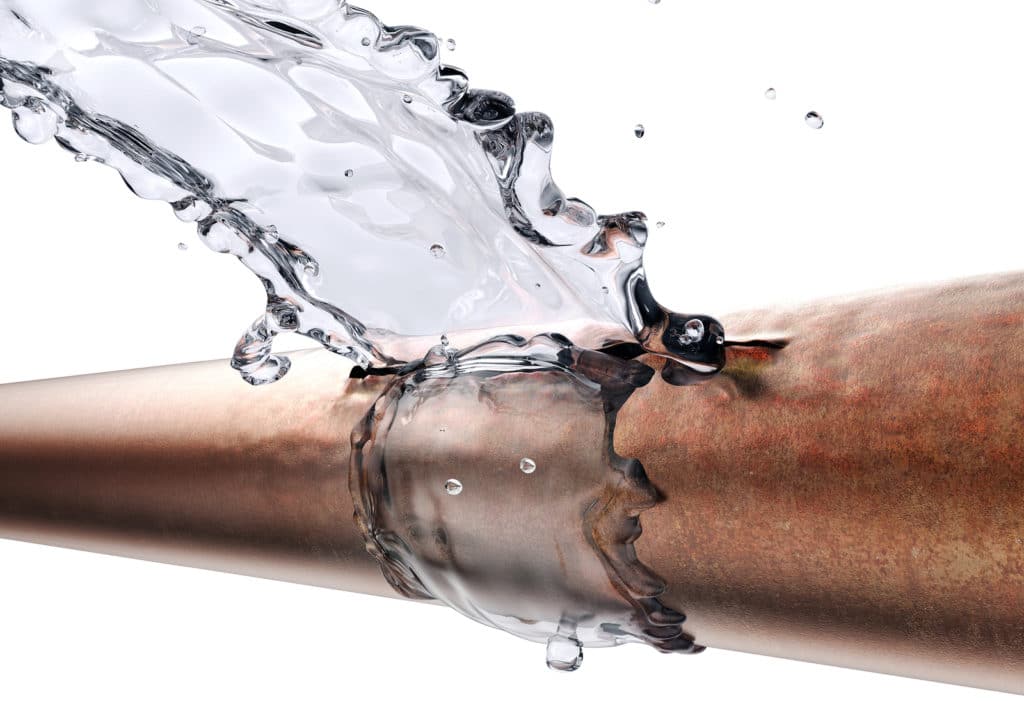 Our Services for Water Pipe Leak Repair
We have a variety of services available to tackle water leaks on any property we are called to visit, saving it from potential damage and securing your drainage system in a way that can't be achieved for long with a temporary repair. These services include:
24 hour call-outs for emergencies
Leak detection
CCTV drainage surveys
Patch lining repairs
Full drain relining
Pipe replacement
To learn more about any of these services and to find out what else we can undertake to keep your property's drainage system in perfect working order, contact us today. Our team is always ready and prepared to answer questions, or to send out one of our engineers to your location if you need an emergency taken care of right away.
It should be noted that the first step in any process involving a leak in drainage should always be to shut off the water. This will involve finding one of your stopcocks. The interior stopcock will most likely be in your kitchen (usually under the sink, or in the hallway close by), while the exterior stopcock may be found under a cover on the footpath outside your home, at the end of the driveway or even with your water meter.
Water Leak Detection
Often, our first task when we are called to a property will be finding the leak. The source of the problem may not always be visible beyond discovering a wet basement, puddles around your garden or damp drywall around your interior space. We will trace and repair the problem from its source, ensuring that we completely cover the damage and seal up any cracks, splits or holes that have formed in your pipes.
CCTV Drain Surveys
We know that we can provide precise and accurate repairs because we will begin our leak detection work with a CCTV drain survey. This process involves fitting a long, flexible camera down your drains to take clear pictures and footage of the inside of your system. These images will tell us exactly where your damaged pipe is, so we'll be able to find and fix the issue in half the time it might have taken otherwise.
Patch Lining for Water Pipes
This discreet, cost-effective "no-dig" method of repairing your drains is ideal for sealing up cracks, weaknesses and faults in isolated parts or smaller sections of your system. We'll access the drain remotely through its nearest manhole cover and, using an inflatable device, we will fit a durable resin to the inside of the pipe. This cures within a few hours, completely covering any damage that had been allowing water to leak out and ensuring that your day is only minimally disrupted. After the patch liner has been fitted, your drain flow should return to normal.
Drain Relining for Leaks
Much like patch lining, full drain relining is a "no-dig" method that allows us to repair our customers' pipes without interfering with their daily schedule too much and leaving their properties looking exactly as they did before. The most noticeable differences between the two processes are the scale and equipment; drain relining is best suited for larger sections of damaged pipe, so we will fit a pipe-like liner covered in resin into these. This liner will then be inflated to the shape of the drain and left to cure, leaving behind what looks like a completely new pipe fitted inside your old one.
Drain Replacement
In some cases, we may find that your pipe is too old or damaged for any (at best, at these stages) temporary repair to keep it working as your drainage system needs. When this happens, we will have to excavate and replace the pipe with a brand-new section.
We understand that the idea may be worrying, as this will involve digging up the pipe and may involve more costs, but you may be relieved to find out that replacing the pipe is often cost-effective in the long run. This is because the section we fit into your system will be completely free of damage and blockages and shouldn't see any signs of wear or damage for a long time to come, keeping it in the working order that you need.
The Cost of Water Leak Repair
How much it will cost to repair a leaking water pipe can vary considerably, depending on the size and severity of the problem itself. For example, it will cost more for us to replace a burst pipe that has flooded your property than it will to reline or patch up a section of pipe that has started to form puddles on your basement floor. The price may also be exacerbated if damage has been done by an unsuccessful temporary repair.
However, we never want you to worry about the cost of the repairs you need for leaking pipes on your property. We make it our aim to offer the lowest prices possible for the work we carry out, and we never add hidden charges to our service bill. As such, the estimated price we quote to you will most likely not change, unless we find further problems with your pipes that we feel need addressing right away.
To learn more about our prices and to get an estimate for the cost of the work you need done, get in touch with our team today. Our fully trained staff will be happy to discuss anything you need for your property, and come back to you with a quote.
Determining Responsibility of Water Leak
Depending on where the problem water pipe affecting your property is, you may not even be responsible for ensuring the leak is repaired. If the damaged section falls outside of your property boundary, it may be that the problem is based in the water main or the communication pipe. In these cases, it will be up to your local water company to ensure the damage is repaired. All you will have to do when this happens is contact them and report the leak in your water main line.
If the damaged pipe is located within your property boundary, it will be up to you (or even to your landlord, if you are renting) to ensure that a reliable, professional drainage and leak detection company is called out to handle it. Get in touch with us if you know that the pipe is your responsibility to have fixed and we will find the solution to get it flowing as it should.
Areas We Cover
We love what we do and we want to provide our services to the greatest number of customers possible. To do this effectively, we aim to work in as many locations along the South Coast of England as we can, finding and fixing all water leaks in pipes and drains that fall within our customers' property boundaries. Below, we have listed just some of the locations where our work has proven popular in the past:
Arundel
Billingshurst
Bognor Regis
Brighton and Hove
Burgess Hill
Chichester
Crawley
Crowborough
Eastbourne
Haywards Heath
Horsham
Seaford
Storrington
Worthing

As we are based in Lancing, we will have no trouble travelling to any of these locations or surrounding areas when you need help with a water leak that has sprung up on your property. We'll be able to trace and repair the damage in a short amount of time, keeping our work discreet so that the rest of your planned schedule isn't interrupted, and we will leave your property looking just as clean and water-free as it was before any sudden emergency.
Call Our Team for Full, Professional Pipe Repairs
When you suddenly discover a leak on your property and you know that it will need more than temporary fixes to ensure the problem is resolved, contact Coastal Drains today. We can offer you the long-term fixes that will keep your pipes in their full working order for many years to come, reducing the risk of further issues and keeping your property free from flooding and water damage.
We will trace and repair any cracks, weaknesses and faults found in pipes not belonging to your water main. So, if you have been experiencing issues with a pipe inside your property boundary, our team can be there to mend it.