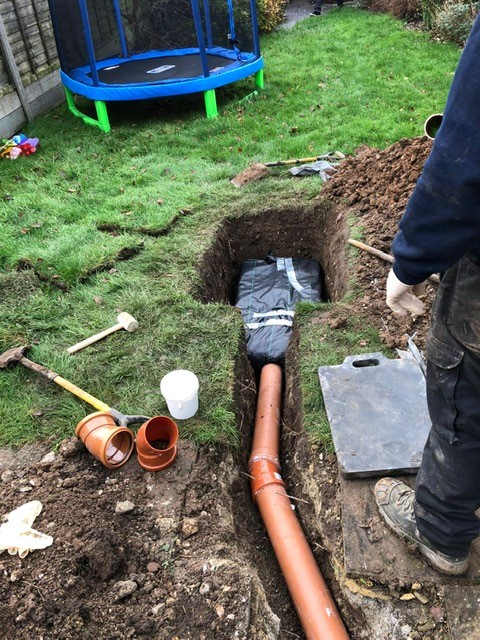 A soakaway will allow for the safe draining of unwanted waste water or rainwater, which helps prevent flooding and allows areas to drain effectively. Soakaways help many homes and commercial premises with their waste and water management, they are usually in locations nearby the building or drain infrastructures – such as in a garden or another outdoor space.
Using soakaways is a common method of removing rainwater from gutters and waste water from a septic tank. If blockages in drainage pipes occur this can cause permanent damage to a septic tank – and contaminated waste water may cause health concerns too. Modern septic tank soakaways commonly drain into plastic soakaway crates, but older ones may drain into rubble. Soakaways for rainwater are usually near a gutter, pipe or drain on a property.
Unblocking a soakaway can be a worrisome challenge, especially if the flooding is causing damage. We are experts in a variety of drain and soakaway unblocking solutions, so can recommend some valuable tips. For a reliable, effective and professional solution for a blocked soakaway, and many other drainage problems, please feel free to get in touch with us for a quote.
HOW TO FIX A BLOCKED SOAKAWAY
If you have a blocked soakaway as a result of a poorly functioning septic tank then it may be possible to get it fixed via your existing warranty or using your buildings insurance provider. However, you may also be able to fix it yourself before seeking professional intervention by trying a few things first.
The following are some excellent tips for fixing a blocked soakaway that is in your garden or other outdoor space:
1: IDENTIFY THE SOURCE OF THE PROBLEM
Find the area where the flooding occurs, and look for the pipes that are close by. Soakaway problems occur in areas where drainage is poor and doing percolation tests can help identify whether the ground is draining effectively or there is a blockage in the pipes..
Pipework may have a blockage some distance away from the point of actual flooding – particularly in septic tanks, which have more intricate internal structures. Blockages in the soakaways of guttering are easier to identify.
2: TRY WATER JETS AND PRESSURE UNBLOCKING
Soakaway systems can be quite complex and relieving the pressure within the pipes can help with a blockage, using strong water jets can help. The way this process works is by getting a jet to the pipework and using it to push water back through the pipes in the opposite direction.
By using water jets you can remove excess dirt, mud and any blockages from gutters – which can include twigs, leaves and other waste. This is an excellent way of making sure the flow of water is free from blockages and running smoothly.
3: CONSIDER REPAIR AND REPLACEMENT
Repair or replacement can sometimes be the only option. This can be frustrating, but if crucial parts of guttering or a septic tank have lost their structural integrity or are decaying then it may be the only option. It is easier to repair guttering than it is a septic tank.
Older septic tanks are much more likely to have cracks or collapses in their pipework, which can lead to waste water going in places where it can cause a problem. Older septic tanks may not be covered by insurance or warranties.
4: MOVE THE SOAKAWAY LOCATION
Unfortunately, you may need to move the soakaway to a different area, especially if flooding is occurring near a house or other building. Older soakaways have less rigid regulations, so excavating a new one and filling in the old one can help stop the problem from occurring in the first place.
Sometimes the drainage conditions can change, particularly in areas where significant construction has taken place, so this might make a once satisfactory soakaway site inappropriate for use. Piping extensions may be necessary in this case.
5: USE PREVENTION STRATEGIES
It is quite possible to avoid a blocked soakaway by preventing or reducing the likelihood of leaves and other blockages occurring at all. For gutters, a downspout and netting can keep leaves at the top of the pipe for easy removal.
In a septic tank, a common problem can be the roots of trees seeking out the moisture in the soakaway pipes and causing a blockage. Keep an eye out for exploratory plants and cut them back regularly to stop this happening.
FIXING A BLOCKED SOAKAWAY
Soakaways are an important feature in many drainage systems and not fixing a blockage may lead to permanent damage in a building or the environment where the soakaway is located, which spoils gardens and animal habitats. To learn more about soakaways and how they work please see our blog post here.
You can unblock many soakaways, particularly with gutters, but you may have to replace septic tanks in some cases – you may be able to do so using your home insurance or septic tank warranty. For a professional solution to clearing a septic tank or gutter and fixing a blocked soakaway contact us for more information.