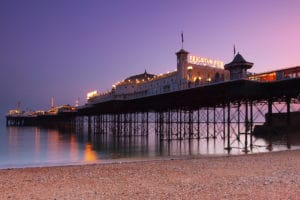 Brighton is a wonderful city and we are fortunate enough to do a lot of work in the area. Granted, most of that work is unblocking drains which could hardly be considered glamourous, but we like to think we offer a valuable service to the city!
So in this week's blog post I've decided to research some interesting fact about Brighton which you may or may not have known. So, sit back, enjoy a coffee or whatever your favourite tipple is, and have a read on these fun and interesting facts about Brighton.
The First Ever Recorded Commercial Flight
On 4th July 1911 Shoreham was the starting point for the first ever recorded cargo flight when Horatio Barber on his Valkyrie monoplane flew a box of Osram light bulbs which he delivered to Hove Lawns.
Britain's First Ever Casino
Britain's first ever casino was opened in Brighton and was within the Metropole Hotel. It opened with a flourish in 1962 and was not only the first casino in Brighton but it was the first on land casino in Britain too. The entrance to the casino was an experience in itself. Visitors would enter through the back of the main hall and up a newly built twin staircase decorated with wrought ironwork. A man called Peter Harrison, who was secretary at the time, recalled that around 800 people all dressed up in their sparkling evening wear would visit the casino every night.
The Brighton Sea Life Centre Is the World's Oldest Aquarium
Brighton Sea Life Centre on Brighton's sea front is the world's oldest aquarium. The Brighton Sea Life Centre was originally conceived and designed by Eugenius Birch, the architect who was also responsible for the West Pier. Work on the aquarium began in 1869, the project costing £133,000 (equivalent to around £3.5 million today). The building was opened to its first ever visitors in 1872.
Today, the Sea Life Centre has over 3,500 amazing creatures and over 100 different species, including sharks and stingrays, and vast tanks of local and tropical marine life. You can also walk through England's longest observation tunnel! There is definitely plenty to discover.
Adolf Hitler Wanted to Move into the Brighton Pavillion
During World War 2 Adolf Hitler gave his bombers specific instructions not to bomb the Brighton Pavillion. He envisioned it as a holiday home after he had conquered Great Britain. Luckily for us this never happened!
Brighton Is the 3rd Happiest Place to Live in the UK
According to a recent study Brighton was voted as the 3rd happiest place to live in Britain. As hard as it is to believe, Sheffield was voted the happiest followed by Edinburgh. But then another study showed Leigh on Sea as being the happiest. So I guess it depends on a lot of factors as to when, where, why and how people consider themselves happy. All I know is Brighton is a great place to live and generally the people I meet seem to be happy.
The Oldest Purpose Built Cinema in Britain
The Duke of York theatre is the oldest purpose built cinema in the UK. Brighton has a rich history in film with many movies and TV shows filmed here. So, it's quite fitting that the oldest cinema should sit proudly in Brighton.
Final Words
So, this is just 6 interesting facts, but I'm sure there are many, many more. Please let me know and let's build this list into a hundred interesting facts, or a thousand or a million!  Well, maybe not that many but hey, feel free to comment.