Main Sewer Connections for Your Property
Call our Team Today For A Main Sewer Connection!
The sewer connection is one of the most vital plumbing connections for your home and our team at Coastal Drains can provide a main sewer connection for your property. Whether you are buying a new house or you have a septic tank system that needs connecting to the main sewer, our fully trained, equipped, and insured drainage experts can do this for you. Call us today for a quote and we can have one of our experts with you ASAP!
We Provide Main Sewer Connections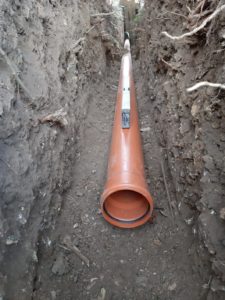 If your property is not connected to a main sewer, call our experts. Having a main sewer connection ensures that all the sewage and waste water from your property can be safely and effectively channelled away. It may be that you have a septic tank or that your new property needs connecting to the main sewer system.
At Coastal Drains, our drainage experts have extensive knowledge and experience in all kinds of drainage maintenance and installations. We provide quality main sewer connections to all our customers – just give us a call today!
Connecting to the Main Sewers: Our Process
If you require your property to be connected to the mains sewer, a sewerage infrastructure charge is payable. If the process of connecting your sewer pipe to the mains involves excavations of public footpaths or grass verges, you will need to obtain consent from the Highway Authority (such as your Local or County Council).
Property Distance and Analysis
To connect to the mains sewerage system, your property must be located within a viable distance from your property and work for you as a cost-effective solution. Our drainage experts can analyse your property, the gradient and whether excavation is required.
Laying the Pipes
Once your property is signed-off by our experts as ready to connect to the mains sewer system, we will lay the pipes to connect your sewer system to the main sewer and ensure all connections are watertight. If the gradient of your property does not allow the water to flow freely, we will install a pump to flush waste from your property.
Discussing Your options
If connecting to the mains sewer is not an option for your property, we will discuss the best options for your home and requirements. If you are unsure about main sewer connections and whether your property can connection to the mains or not, please do not hesitate to contact us today for more information.
What is a Main Sewer Connection?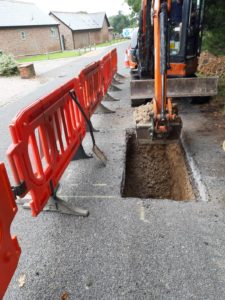 A mains sewer connection is when the sewage pipes from your property connect with the main sewage system, to which all pipes carrying sewage from different locations connect. The main sewage transports all sewage from their various pipes to the treatment plant. Main sewers are built to cater to the amount of sewage being flushed from all nearby buildings. If the drains become overworked or clogged, problems can occur such as back-flow and blocked toilets.
Where possible, we would highly recommend you connect your sewage waste pipe to the main sewage connection. It is a crucial part of your home's plumbing system.
Who Maintains Public Sewers?
Main sewers are publicly owned and maintained by your water company and will be kept in good working order by professionals who can effectively carry out their upkeep. For homes situated in remote areas, cesspools, drainage fields and septic tanks are available to help dispose of sewage safely.
Connecting to the Mains is Not Enforced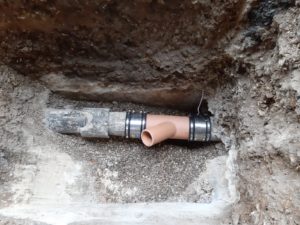 Although we would strongly recommend that, if possible, you connect your property to the mains sewer, it is not enforced if your property is more than a hundred feet from the nearest public sewer. It is a public duty that all water and sewerage companies have to ensure the area is effectively drained. However, you are not forced to connect your property to the main drain system.
If you decide not to connect your property to the mains sewer system, you will have to pay for this by installing a private sewage system.
If you would like more information about your options, please do not hesitate to call the team at Coastal Drains today.
Repairs to the Mains Sewer Connections
If the mains sewer becomes clogged or damaged from stormy weather, tree roots or breakages, it is the responsibility of the local water company to fix the problem. In such circumstances, they may request access into your property to inspect or maintain the sewer.
If the property with the sewer connection is on your property, Coastal Drains can clear it for you. A blocked sewer can cause a lot of problems, which is why our team of drainage experts at Coastal Drains will fix the problem for you swiftly and cost-effectively. Our team are extremely experienced at unblocking sewers and will get your sewer fixed and working again in no time. Call us today!
Areas We Cover for Sewer Connections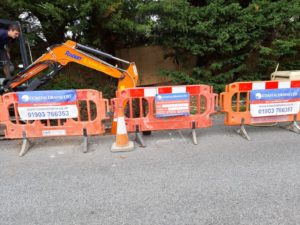 Brighton, Chichester, Hove, Eastbourne, Worthing, Seaford, Haywards Heath, Burgess Hill, Crowborough, Bognor Regis, Billingshurst, Arundel, Storrington, Crawley, and Horsham. If you live or work in these areas and would like a sewer connection for your property, please do not hesitate to contact Coastal Drains today!
Call the Coastal Drains Team Today
Call our team today to find out more about mains sewer connections and how having one will benefit you. Our team of experts will be more than happy to help you by answering any questions you may have.