Emergency Sewer Service – Coastal Drains' Emergency Plumbing Services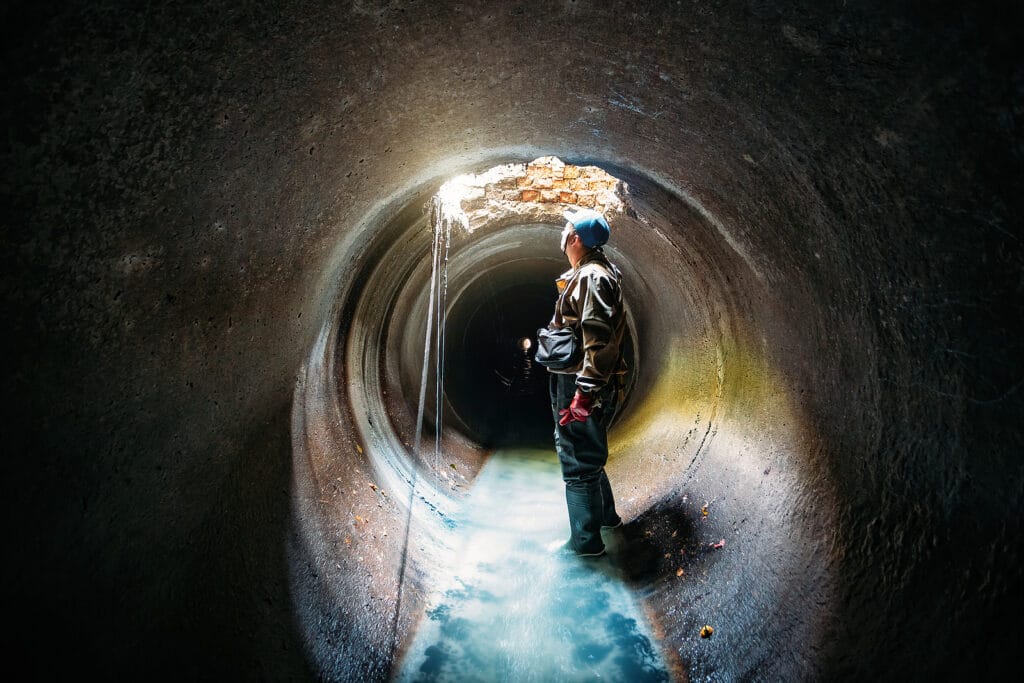 Here at Coastal Drains, our drainage engineers have over 40 years worth of experience working with drainage systems for domestic and commercial properties across Sussex. We only carry industry-standard equipment which allows us to provide a wide range of drain services – able to solve all manner of drainage issues throughout the area in the most cost-effective and efficient ways possible.
If you're in need of emergency sewer services, we are able to visit your property in under an hour. Our emergency sewer services cover:
Blocked toilets
Overflowing manholes and public drains
Sewer blockages and backups
Damaged sewer pipes
And other sewer-related problems
We will also be able to inform you as to who is responsible for fixing the problem. For example, it may be the responsibility of your local water provider (Thames Water, Southern Water etc) or if the problem is on private land, it may be yours to address.
In the event of an emergency, we always ensure that we provide:
Fast call outs
Onsite solutions to all common sewer-based problems
Free quotes on emergency services
Guaranteed 24-hour solutions
Don't wait around if you're in need of an emergency drain service, contact us now.
Emergency Sewer Services on Offer at Coastal Drains
Our team of fully trained experts at Coastal Drains can offer a wide variety of services and solutions to your drainage problems throughout the Sussex area. Below, we've listed some of the more effective services that we offer:
Emergency CCTV Drain Surveys
If you aren't entirely sure what could be causing issues within your drainage system, our team of experts can help. Our vans come fully equipped with industry-standard, state of the art, equipment that allows us to complete most jobs on the first visit. So when it comes to identifying the problem, we have just the thing. We utilise high quality, flexible cameras to see the inside of blocked drains in a non-invasive manner. This allows us to see the root cause of the problem, whether it's a drain blocked by roots or a buildup of debris, we can determine the best course of action to solve any issues after identifying the problem.
Emergency Septic Tank and Soakaway Unblocking Services
Our expert drainage engineers can provide the necessary septic tank maintenance services that are required to keep septic tank owners lawful. If you find that your septic tank is full, we provide emptying and cleaning services to ensure its continued smooth running for a longer time. If you find that your septic tank is operating as well as it used to, it may be in need of general maintenance or repairs. If left unchecked, it could cause problems for public health or the local environment. In order to avoid getting in trouble with the law due to a broken septic tank, get in touch with Coastal Drains today. We can provide emergency drain services, which include septic tank emergencies, throughout the entire Sussex area.
Emergency Drain Jetting and Drain Cleaning
If you find your drains are blocked by what looks like a relatively small blockage, you may be tempted to remove this yourself with a jet wash. However, you may also find that your jet wash is not powerful enough to destroy the blockage; and may actually make the problem worse by pushing it further into the drainage system. In order to prevent this from happening, our experts use state-of-the-art drain jets that effectively break up any blockages with jets of water that aren't found commercially.
Emergency Block Drain and Toilet Services
Blocked drains and blocked toilets can occur due to multiple reasons. Either attempting to flush too much toilet paper at one time or items that aren't meant to be flushed into the drainage system. When this happens, and a blockage occurs, overflowing and bad smells can manifest. You may find that traditional methods of removing a blockage, such as plunging, are not working. In the case of severe blockages, we highly recommend contacting the drainage engineers at Coastal Drains to clear any domestic and commercial drains and toilets.
Contact Coastal Drains for Emergency Sewer Services in Sussex
Our drainage engineers provide the most cost-effective rates across the whole of Sussex. As the number one choice throughout Sussex, we make it our mission to be the best, which is why we provide emergency drainage services 24 hours a day, 7 days a week, all without callout fees. Whether you're experiencing a total drainage disaster in Chichester, or need a septic tank emptied in Rye, we've got you covered throughout Sussex.
Our experts can get any job you need done, completed as fast as possible by our team of experts, with minimal disruption. For emergency sewer services near you, contact Coastal Drains today.