A common problem that not many people think about until it happens is their property's gully drain becoming blocked. This can easily happen, as water from gutters or from kitchen sinks often contain debris that can build up and cause blockages. These blockages can cause further damage to your home and garden if they are left, so it is best that they are cleared out as soon as possible.
Sometimes, a person may wish to carry out this work by themselves, but may still be unsure of the process they need to undertake. However, Coastal Drains can help here, by listing steps on what to do if your rainwater or kitchen gully drain is blocked.
How to Unblock a Gully
In order to properly unblock your gully drain, you will need to confidently know how to proceed. As experts in the drainage industry, we can advise on the correct series of steps for anyone planning on unblocking their gully drain.
It is important to wear protective clothing such as rubber gloves and protective goggles when carrying out this type of work, in order to protect yourself from any direct contact with unpleasant matter in your drains. This will not only save you from getting dirty, but it will also prevent exposure to potentially harmful bacteria.
Locate the Blockage
The first step to take when attempting to unblock a gully drain is locating the blockage itself. If it is at the top of the drain, where the water would normally go in, then remove any debris that might be trapped there. It's common for leaves, twigs and other refuse to get caught and block the tops of drains, so if these are removed and this clears the gully, then your problem is solved.
However, if this does not solve the issue, then the cause of the blockage is deeper inside your drain and will need more work to clear out.
Remove the Grate (if Needed)
If your gully has a secure grate or drain cover over the top, use a screwdriver to remove it and then use a tool like a gardening trowel to remove any debris that might be stuck inside. In some cases, this will be enough to get your drain flowing again, but if it isn't in your case, then you will need to go further into your drainage system.
Use Your Drain Rod
Using a drain rod, carefully feel around in your drain to see if you can find out where the blockage is. Once you have found it, you may be able to loosen and break up the blockage into smaller pieces by lightly poking and prodding it with the rod, allowing it to fit and flow through the pipes easily.
Take caution and care with this step, as the blockage may simply be moved further down the pipe if it is not broken up.
Flush the Gully Through
When the debris has been broken down or loosened enough, you can use a hose pipe to flush the pipes through. The pressure from the hose will be enough to help move along any blockage that remains. Adding boiling water afterwards can also prove to be an effective gully drain unblocker, as it helps to break down fats, oils and other dirt that may have been causing the problem in the first place.
For More Advice
If you are unsure at any point when attempting to unblock your gully drain, or you cannot complete the job by yourself, we would highly recommend that you call a professional service for advice, or to carry out the clearing for you. If you are inexperienced and have never attempted to clear a blocked kitchen gully or blocked gully trap before, carrying it out incorrectly can cause damage to your pipes and other parts of your property.
We have had years of experience in cleaning out blocked paving gullies, blocked sink gullies and blocked rainwater gullies, so we will be happy to clear yours as well. Our team members are all highly trained and skilled at what they do, so you can be sure that we will be able to solve your problem.
How We Cleared a Gully Blocked by Tree Roots
There is no job that is too big or small for us at Coastal Drains, as is proven by this recent case study of a church's rainwater gully blocked by tree roots.
Boss Aaron said: "We were called to a church in Brighton, as the gully was blocked and every time it rained, the surrounding area would flood."
"Our guys attended and pulled out this root mass."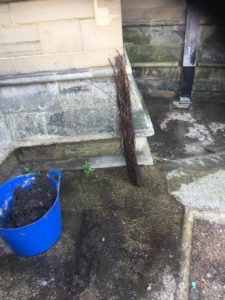 "A HPWJ (High Pressure Water Jetting) was then carried out and everything was back to working order."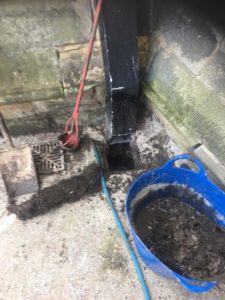 What We Can do For You
If your gully drain is blocked, we can provide the same service for you that we did for this church. We will send our drainage engineers to your location in no time at all, and after determining the cause of your blockage either by sight or through a CCTV drain survey, we will clear the problem out using one of our drain cleaning appliances or products.
If your drain needs an even more thorough clean than this, we can even provide our drain jetting service to clear out the furthest to reach cracks and corners of your drains, just as we provided for the callout to the church. This service will even dismantle tree roots, so you will not be disappointed by the results!
For more information about CCTV drain surveys, either call us or visit our page, and to learn more about the process of drain jetting, please get in touch. Our staff are all friendly and happy to help answer any of your questions.
Get in Touch
If you are having trouble with a blocked gully drain, contact Coastal Drains today. We love what we do and we want our customers to be happy, both with our work and the condition of their drains, so we will always make giving the best possible service and assistance our top priority. We will do everything we can to see that your gully drain is cleared quickly and efficiently.
Our service is available 24 hours a day, 7 days a week, so there is no need for you to wait to get your drains working again. Call us now and we will be there in no time.